For those of you who love pizza as much as we do, we have some good news: There's no need to go out to enjoy a good slice. You can make a restaurant-worthy pie right at home—easily! And we're going to show you how.
Luckily you don't need to know how to make pizza dough, because with Pillsbury pizza crust the hard work (plus some of the waiting) is already done for you. And if you want to pass it off as your own, we won't tell! However, if you insist on making a scratch pizza crust, our sister site, bettycrocker.com, has a great recipe for homemade pizza crust.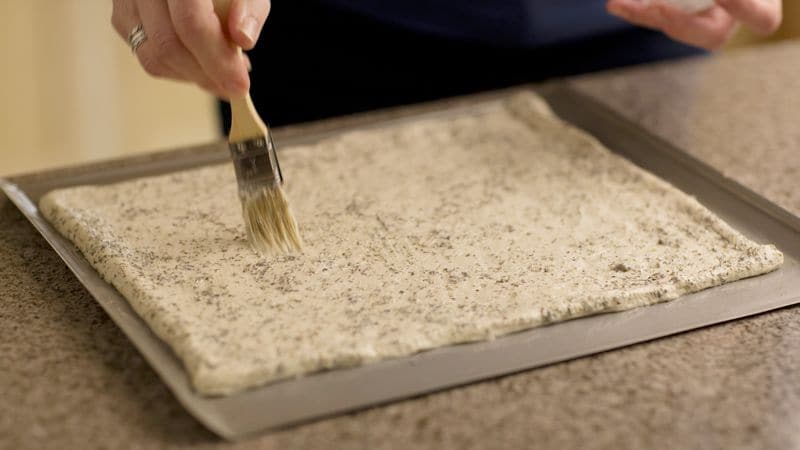 Trust us, we know the allure of having a frozen pizza or two on hand. But you can make pizza crust and store a few in the freezer so you can readily make homemade pizza whenever the cravings strike. We'd recommend that you make the dough, allow it to rise and then freeze it so that all you have to to is let it thaw and roll it out on busy weeknights when you're short on time. Make sure you give it some time to thaw though—let it thaw overnight in the refrigerator for best results!
Whether you make dough from scratch or use a premade dough, you have a few methods to choose from when baking it. You could play it safe and bake on a baking sheet based on the package instructions. (Ain't nothin' wrong with that!) If you're craving a crispier crust, a baking stone are both good tools to keep on hand. Using a stone? Make sure to heat it in the oven 10-30 minutes before you plan to bake so the stone is piping hot. You should probably also make your pizza on top of a pizza peel sprinkled with a little cornmeal to make it easy to transfer your pizza to the oven. If you don't have a pizza peel, an upturned baking sheet (flip it over and sprinkle with cornmeal, then assemble your pizza on the bottom) works too. We've even got an easy step-by-step guide on how to grill pizza for that smoky flavor and lightly charred crust.
For a Crisper Crust
Pre-bake dough for 8-9 minutes. Flip crust with spatula. Top with pizza sauce, cooked meat, cheese and other toppings as desired. Bake 6-10 minutes longer or until crust is deep golden brown. Most recipes for thin, crispy pizza crust will call for an oven temperature between 400 and 500 degrees. For an even crispier crust, pre-heat your oven with your pizza stone or baking sheet in it—this will ensure the bottom of the pizza has a nice crunch!
For Soft Crust
Do not prebake dough. Spread with sauce and top as above. Bake 9-13 minutes for cheese pizza, 13-17 minutes if additional toppings are added, or until crust is deep golden brown. Typically, temperatures called for soft crust pizza recipes are still quite high—you don't want to go below 400 for pizza or you will end up with a sad, soggy crust (and no one wants that!).
Depending on your crust preferences you could choose classic crust, thin crust or an unroll, top and bake crust.