Winter melon soup with pork ribs has a mild and delicious taste. It can reduce body "heat" (TCM) and quench thirst, and is ideal to eat in summer. This recipe is simple, so why not give it a try in the heat of summer?
Ingredients and Seasonings
Main ingredients: 500g pork ribs, 750g winter melon, 500ml water
Seasonings: a piece of mature ginger, 5g salt



(The amount of the seasonings can be adjusted according to personal taste.)
Preparation
1. Clean the pork ribs and cut them into 2 cm (1″) chunks.
2. Peel the winter melon and dice it into 2 cm (1″) pieces.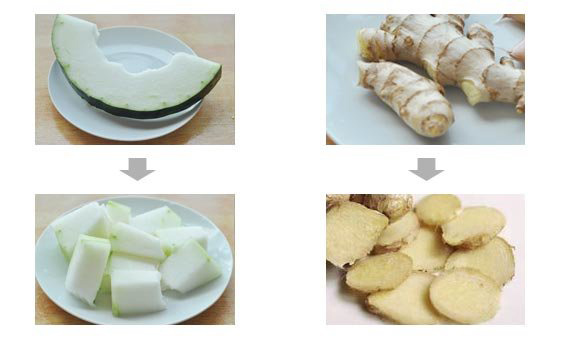 3. Clean the mature ginger and slice it thinly.
Cooking Instructions
1. Pour the water into a pot and bring it to a boil. When the water is boiling, add the pork ribs. Cook for about 15 minutes.
2. Add the winter melon and salt when the ribs are cooked through.
3. Add the sliced ginger.
4. Continue to cook on a medium heat for about 20 minutes.
5. The soup is now ready so spoon it into serving bowls.
Clip: How to Cook Winter Melon Soup with Pork Ribs